Welcome to The First Shop on the Moon! This is the cybermall of the future and "web site" of Walkley Award winning, National Treasure and Guardian cartoonist First Dog On The Moon. If you are looking for the virtual campus of the First Dog on the Moon Institute you will find that here. Come and join us!
Here you will find our shop and cartoon archive here along with exciting information about all things Onthemoon. Except of course for the actual Guardian which is where the cartoons are published usually three times a week.
Our other exciting news is right now in the First Shop On The Moon you can find my latest book The Carbon Neutral Adventures of the Indefatigable EnviroTeens. You can also find exciting First Dog on the Moon Plush Soft Toys and my previous other book which is also quite good First Dog on the Moon's Guide to Surviving the Apocalypse.
While you're here why not sign up to our irregular mailing list for occasional not very good emails. Or sign up over at the Guardian to receive the First Dog on the Moon cartoons THE EXACT NANOSECOND THEY ARE PUBLISHED. Or check out the First Dog on the Moon Institute. So many things.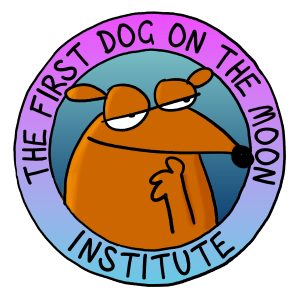 *not actual moon